Thanks to so many wonderful game suggestions (primarily video games, but not all) from the Rewilding Our Stories community, we have a new eco-gaming section here at Dragonfly. While some games lean toward environmental lessons and strategize ways to reconstruct ecological systems, others beautifully immerse the player into an explorative world where nature and wilderness are key to survival. The games are broken into a few categories, which might overlap: first person-shooters, MMOs, narrative, puzzle-platformers and other strategy, RPG and adventure, simulation, and tabletop (including D&D, map, board, and card games).
Note that while games can teach about environmental issues, including climate change, and can place the player into an immersive, natural simulated world, the gaming industry can also generates its own problems. DW, in Can Video Games Inspire Climate Action? states:
Gaming itself generates its own environmental problems, though, whether as e-waste or as contributing to a country's carbon footprint. It's hard to estimate how much electricity gamers consume since it varies based on how often a gamer plays, what platforms they use and how energy efficient their devices are.
So it is important to try to be aware of e-waste issues, energy use, and other consumption problems when buying and playing games.
I'll update the lists below often, so check back for more recommendations. I know that there's a lot out there, and I haven't covered it all yet. Think of this article as a starting sample, and feel free to leave a comment and link with more information if you want me to add a game.
Newly added on February 21, 2022: an article from Screenrant about solarpunk-inspired TTRPGs as well our addition of these games in the tabletop RPG section.
Articles about Eco-Gaming
Game List
First Person Shooters
Perfect Dark by Microsoft's The Initiative and Crystal Dynamics. The original game came out in 2000 and fell into the genre of sci-fi. A reboot of the game is up and coming and should be playable on Xbox and Windows. GameRant had an interesting article about the reboot being more ecologically inclined. "Ecofiction is an interesting genre that's cropping up more and more lately. One great example is The Last of Us. Rather than sticking to traditional zombie narratives of a mysterious virus or otherworldly force reviving hordes of the dead, a strange fungus controls the undead in The Last of Us, creating an interesting narrative of humans trying to survive against nature itself and struggling against the consequences of their own impact on the environment. Ecofiction is a pretty rich environment for storytelling, so it's not too surprising to learn that The Initiative's Perfect Dark reboot will be taking an eco sci-fi turn."
Massively Multiplayer Online (MMO)
Temtem by Humble Games: Still in early access, this game is a creature-collection adventure inspired by Pokémon. According to its publisher, "Every kid dreams about becoming a Temtem tamer; exploring the six islands of the Airborne Archipelago, discovering new species, and making good friends along the way. Now it's your turn to embark on an epic adventure and make those dreams come true."
Narrative Games
Beyond Blue by E-line Media: Set in the near future, Beyond Blue explores the mysteries of our ocean through the eyes of Mirai, a deep-water explorer and scientist. Become a part of a newly formed research team using groundbreaking technologies to see, hear, and interact with the ocean in a more meaningful way than has ever been attempted. Playable on PC, Xbox One, PS4, and Apple Arcade.
Survive the Century by Sam Beckbessinger, Simon Nicholson, and Christopher Trisos: This game features short stories by Lauren Beukes, Rajat Chaudhuri, Maria Turtschaninoff, and Sophia Al-Maria as well as illustrations by Annika Brandow. According to the website, Survive the Century is a branching narrative game about the political, environmental, and social choices humans will face between 2021 and 2100 as we adapt to the ravages of climate change.
World Rescue by ZU Digital and UNESCO MGIEP: World Rescue is a narrative, research-based video-game inspired by the Sustainable Development Goals of the United Nations. Through fast-paced gameplay set in Kenya, Norway, Brazil, India, and China, you will meet and help five young heroes and help them solve global problems—such as displacement, disease, deforestation, drought, and pollution—at the community level. Available on iOS and Android.
Puzzle-platformer and Other Strategy Games

Never Alone (Kisima Ingitchuna) by E-line Media: The creators worked with Alaska Native storytellers and elders to create a game that delves deeply into the traditional lore of the Iñupiat people to present an experience like no other.  "One word sticks with me after finishing Never Alone: respect. This game is full of it. Respect for the Iñupiat, respect for nature and animals, respect for the things we can't control, and respect for those who try to change their community for the better. Never Alone respects not only these ideas, but it holds video games in the same regard, as demonstrated by the care clearly put into the mechanics, story and flow of the game. Never Alone is a glimpse into the real lives of Alaska Natives, and it's a peek at a different kind of fairy tale." -joystiq. Playable on Mobile, PC, PS 3 and 4, Mac, and Linux.
Plasticity by Plasticity Games: A puzzle-platformer about a plastic-ridden world and the choices you make to save it. Play as Noa, a curious young girl who leaves her home in search of a better life. Embark on an emotional journey as your actions dynamically change both gameplay and the story. Playable on Windows.
Terra Nil by Free Lives and Devolver Digital: Terra Nil is a reverse city builder about ecosystem reconstruction. Turn a barren wasteland into an ecological paradise complete with different flora and fauna. Then clean up, leaving the environment pristine. Subverting the builder genre, Terra Nil is about the restoration of a ravaged environment. The release date is TBA.
Working with Water by Chaos Theory Games: A turn-based strategy game helps teach students about developing and maintaining a sustainable water supply system. The game appears to be available as a browser game and on phone apps. This game is used in classrooms and takes place in the Central Coast of New South Wales, Australia.
Roleplaying and Adventure Games
Final Fantasy VII by producer Hironubo Sakaguchi: Let's head back to 1997 when FFVII came out on Playstation originally, and then later on PC. Do you remember? I sure do! Ars Technica has an excellent article about this game and how it helped to produce modern-day climate warriors. A remake by Square Enix came out in 2020. Players control Cloud Strife, a former Shinra soldier turned mercenary who joins the eco-terrorist group AVALANCHE to fight the Shinra Corporation, who have been draining the planet's life energy. Every element has been remade, using real-time polygonal graphics as opposed to the pre-rendered environments of the original.The story includes major expansions to character development and some notable plot additions (Wiki). You can still play the original game, though. The video below shows the original vs. the remake.
Horizon Zero Dawn by Sony Interactive Entertainment: This explorative, adventure game is single-player and has an expansion called The Frozen Wilds. Sony's subtitle is "Earth is ours no more" and describes the game: In an era where Machines roam the land and mankind is no longer the dominant species, a young hunter named Aloy embarks on a journey to discover her destiny.In a lush, post-apocalyptic world where nature has reclaimed the ruins of a forgotten civilization, pockets of humanity live on in primitive hunter-gatherer tribes. Their dominion over the new wilderness has been usurped by the Machines – fearsome mechanical creatures of unknown origin.
In Other Waters by Fellow Traveler: Play as an AI character guiding a stranded xenobiologist through a beautiful and mysterious alien ocean. In this sci-fi story, enter a world of wonder, fear, and vulnerability, unraveling the history and ecology of an impossible planet. What will you discover together? Playable on Windows, Mac, and Nintendo Switch.
The Legend of Zelda: Breath of the Wild by Nintendo: An adventure fantasy game in the canon of other Zelda games. Ludeo, on Youtube, uses ecocriticism to explore the game through the lens of weather and the changing climate. Playable on Nintendo Switch and Wii U consoles; possibly emulated on PC.
No Man's Sky is an action-adventure survival game played from a first- or third-person perspective. Be the first to land on beautiful, unknown planets teeming with life. Survive hazardous environments, where alien civilizations seek their fortune and outlaws take it by force. I first read about this game years ago. I was fascinated by the random and infinite procedurally generated planets, where weather and ecology is so wild. I recently began playing it, and though it has some space travel to get to planets (not at all a healthy technology), the discovery of alien ecologies is pretty awesome. This game is available on PS4 and 5, SteamOS, XBox One, Game Pass, and more.
Pokémon by Nintendo the Pokémon Company: So many variants of the game exist, and associated with it are also television shows and movies. The Verve has a great article that states, "Pokémon has also delivered a crash course in environmental science…There's a moment in the live-action movie Detective Pikachu when the ground beneath our heroes' feet is crumbling. As they slip and slide, Pikachu, voiced by Ryan Reynolds, yells to no one in particular, 'At this point, how can you not believe in climate change?'" Pokémon GO is also known for getting players outside and hiking around to find their creatures.
Sunless Skies by Failbetter Games: An exploration and indie RPG, this game's platforms are Windows, SteamOS, Mac, linux, Xobx One, Nintento Switch, and Playstation 4. Several people brought this game up in a recent Flights of Foundry meetup our Rewilding Our Stories Discord participated in. It's kind of cool that the stories are inspired by CS Lewis, Jules Verne, HP Lovecraft, and HG Wells. Create your past. Choose who you were before you became a skyfarer. Most of your captains will die. Each will leave their mark on the world. Explore a beautiful, hostile world. This is a standalone story set in the Fallen London universe, as seen in Sunless Sea.
Valheim by Coffee Stain Publishing (still in early access): Although the game is not inherently an environmental game, it's completely immersed in various biomes and strongly influenced by Viking culture and mythology. You'll find yourself in meadows, black forests, swamps, mountains, plains, and the ocean. Steam describes it as: "A brutal exploration and survival game for 1-10 players, set in a procedurally generated purgatory inspired by Viking culture. Battle, build, and conquer your way to a saga worthy of Odin's patronage!" It's a game I've been playing on and off with family and friends. I like it for the harsh wilderness and ways to regenerate the nature around you, such as seed-saving and replanting. Also, no matter where you go in the game, the World Tree (Yggdrasil) is always looming overhead, but as far as I know, you cannot get to it. Playable single player or co-op, the game is available on Windows, SteamOS, and Linux.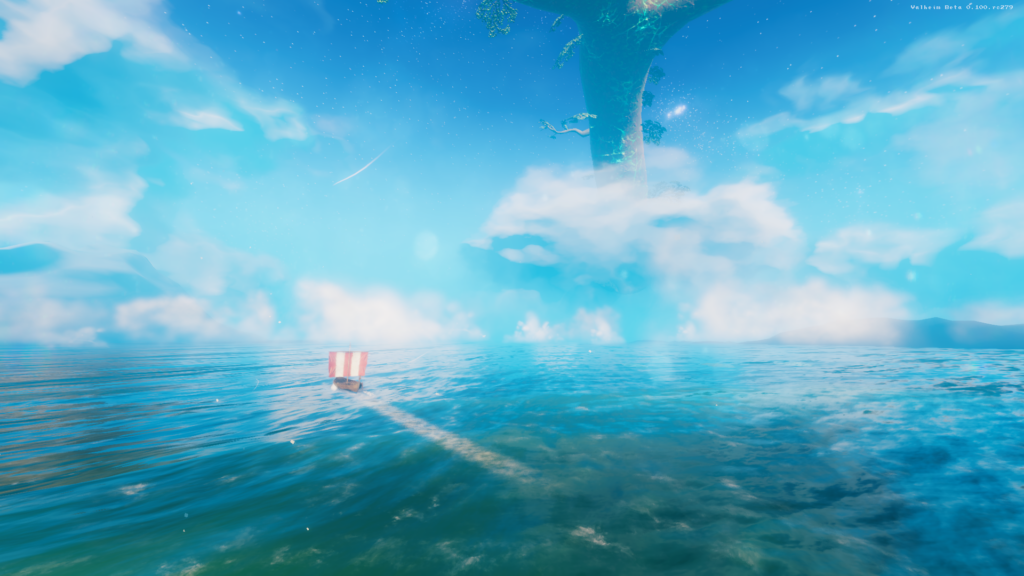 Simulation

Bee Simulator by Nacon: According to Steam, "Live the big adventure of a small bee! Explore a world brimming with life in which you collect pollen, defy dangerous wasps, and save your hive. Play with others in three game modes, including co-op and PvP on split screen." This game is available to play on PC, Xbox One, PS4, and Nintendo Switch.
Eco by Strange Loop: Players collaborate to build a civilization in a world where everything they do affects the environment. This simulated environment is in beta and is open for players. Available for PC.
Endling – Extinction is Forever by HandyGames: This game is a described as an eco-conscious adventure as seen by the last surviving fox on Earth. It's a 3D side-scrolling world in which the player has to defend their three cubs, feed them, watch them grow, and learn more about them. This game is coming soon and will be available to play on PC, PS4, SteamOX, Xbox One, and Nintendo Switch.
Frostpunk by 11 Bit Studios: Frostpunk is the first society survival game. As the ruler of the last city on Earth, it is your duty to manage both its citizens and infrastructure. What decisions will you make to ensure your society's survival? What will you do when pushed to breaking point? Who will you become in the process? Playable on PC, Xbox, PS4, and Mac.
Roots of Pacha by Crytivo:  A co-op farming and life simulation game set in the stone age, where you and your clan just settled in a promised and fertile land. By connecting with nature at your own pace, you'll help your clan evolve, develop culture and relationships, and discover the mysteries of Pacha, mother nature. Playable on Windows. Coming soon.
Tabletop RPG and Strategy Games (including D&D)

Arcology World, sold by itch.io, describes itself as solarpunk and is a nonviolent game PTBA game of mutual aid, community, and adaption. According to its site: "RPG uses the 'Powered By The Apocalypse' roleplaying system to tell ardently anti-capitalist stories about de-centralized communities in a far-future Earth full of lush ecosystems and strange animals mutated by genetic engineering."
Deep Forest by Mark Diaz Truman and Avery Alder. According to the website, The Deep Forest is a map game of post-colonial weird fantasy. It's a re-imagining of another game, The Quiet Year, which centers upon monstrosity and decolonization.
Dune: Adventures by Modiphius Entertainment Ltd: Note that this went on pre-order in December 2020, and I don't have any updates for it. This roleplaying game takes you into a far future beyond anything you have imagined, where fear is the mind-killer, so be sure to keep your wits about you. The Imperium is a place of deadly duels, feudal politics, and mysterious abilities.
The Fifth World, which is developed by a member in the Rewilding Our Stories Discord, is an open source shared universe—a vision of a neotribal, ecotopian, animist realist future created by a growing community of authors, artists, designers, gamers, and dreamers. It's a tabletop roleplaying game, where you and a handful of friends explore post-apocalyptic changes in your world.
Into the Motherlands, an Afrofuturist solarpunk tabletop RPG developed by I Need Diverse Games, has a Kickstarter going. Screenrant describes it an RPG descending from "West African cultures of this naval expedition thrive on their adopted home-world of Musalia, living in symbiosis with the native ecology and raising up Solarpunk metropolises in the style of Wakanda from Black Panther."
Lost Eons, based on The World After by Matt Goulson and David Blandyy, and including multiple writers and illustrators, this game is in the genre of solarpunk science fiction and is inspired by such world-builders as Ursula K le Guin and Octavia Butler. This is a tabletop RPG that includes a player's guide, fens setting book, and GM tools book.
Solarpunk Futures  is a 10-minute rules-light, role-playing game where players imagine the pathways to a desirable world from the perspective of a utopian future. Through dialogue and collaborative worldbuilding, collective and visionary narratives emerge of a new society, along with plausible scenarios for how to get there. This game is a project by Solarpunk Surf Club and currently has a kickstarter. Available right now is a downloadable gamebook and cards. A tabletop simulator is coming soon.
The Transition Year (which has a ruleset used in The Quiet Year) is published by itch.io and is a map-drawing game of post-capitalist futures and world-building for other games and fictions.
Valence by Science Ninjas: Valence is a fun card game that uses simple math, colors, and cartoon ninjas to teach kids (8+) chemistry! Players use more than 25 different molecules to interact with each other and win the game! Associated also with a comic.